Another exciting week of RV Living!
I had a great time in Joseph Oregon and learned that when my RV, Big Bertha speaks to me, I need to  listen! Here's how I handled a break down while living in my RV.
I'd been hanging around Joseph and Enterprise Oregon for three days waiting for my General Delivery mail (client checks!) to arrive from my UPS mail forwarder in California. My friend Bob left for Salt Lake City Saturday and I'd been enjoying being alone and free to wander, explore and do a little stealth camping in town (Bob doesn't do stealth camping!).
Stealth-Camping in Joseph, OR
After one night at the community center in Joseph and one at a little league field in Enterprise (another small town, 6 miles from Joseph), I was ready to go legit – even if that meant doing without internet for a night.  I went back to the Hurricane Creek National Forest Campground where Bob and I had stayed our first night in Joseph. It's just a few miles outside of town and for $6 I got a pretty, wooded campsite along the creek, in a remote setting. And even more importantly, the peace of mind knowing I wouldn't get a knock on my door in the middle of the night.
I got to the Joseph post office around noon on Monday (after doing laundry at the small (and expensive) laundromat a couple blocks away), hoping that my third visit would finally produce my mail.  The tiny post office parking lot and side street were full so there wasn't any place big enough for my RV to park (I don't fit in a regular parking spot and take up about 4 spaces sideways).  I ended up on  a side street and stopped in front of an old farmhouse where an elderly lady and (who I assumed to be) her caregiver sat in lawn chairs on the plush green grass in the shade of an apple tree, escaping the mid-eighties heat (the first hot weather eastern Oregon has had in weeks!).
As I pulled my RV to a stop they stared at me and  a wave of self-consciousness engulfed me; I realized  I shouldn't have parked there. Even though I was on the street, it was her street- and I was kinda sorta blocking her driveway. I wouldn't be surprised if she grew up in that old farmhouse and remembered Joseph before the post office moved next door and the fancy art stores, cafes and gift stores cluttered the main street that used to be her backyard.  I jumped out and ran over to the other side. "Is it ok if I park here for just a minute while I run into the post office?", I pleaded.
The frail elderly lady stood up and with waning authority in her voice, said, 'yeah, but just a minute – and no more!"
"Ok, thank you very much. I'll be right back." I ran into the
post office, got my mail (yay! Finally!) and anxiously hoisted myself into the driver seat of Big Bertha, ready to take off. Idaho, here I come!  As much as I'd enjoyed my stay, it was time to hit the road.
Excitement fluttered as I basked in my freedom… nothing like the beckoning open road…. CLICK, CLICK… Oh noooo… I turned the key again. CLICK. CLICK. NO!!! Not here!  Not when I'm intruding on an old lady's peaceful day. I turned the key again. Nothing.  Just the same empty, loud CLICK.  CRAP!!!
The panic was hitting me like pebbles before a rock-slide: oh shit, what am I going to do. How much will THIS cost? Where will I stay while it's getting fixed? How will I get out of this old lady's way? NO! NO! NO! I want to go and I just got my money and now it's already gone…!
I reigned it in before the panic-boulders fell and crushed me. My inner calm, rational, let's-just-deal-with-this self took over:  It's ok. You can handle this. You knew, when you bought an old RV shit would happen. You said that would be part of the adventure! Remember???
Ugghhh. Me and my damn adventures. Maybe for once, it would be ok to take the easy route!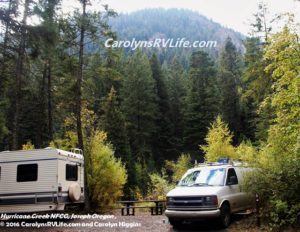 The panic began to slide away and was replaced by gratitude: at least it happened in town and not at the campground where I was miles  from town with no cell signal – or someplace even more remote.
My First Breakdown and a Full-time RVer
Ok, let's figure this out.
Maybe the battery connections are loose again. I hopped out and popped the hood. Once they saw me do that, the elderly owner of the house and her caregiver stopped being annoyed and became very helpful.  The frail old woman walked toward me and I noticed a blank look in her eyes as she mumbled incoherently. I hoped it wasn't Alzheimer's, it's such a sad disease…  She stood next to me while I fidgeted under the hood (as if I knew what the heck I was doing) and suddenly became coherent: "Why don't you put it in neutral? Neutral. Put it in neutral. Did you try to put it in neutral?"
I had no idea what that would do, but what the heck- I had nothing to lose! I hopped in, slipped it into neutral and turned the key again: CLICK. CLICK. CLICK. Well, it was worth a shot.
As I climbed back out, the old woman's caregiver was on her phone yelling something to me from her lawn chair in the shade.  As I walked toward her, I wiped the sweat from my temples, it figures, it's been a pleasant seventy degrees the whole time I've been here now I have to deal with this in the heat!  I was dressed for fall, not Indian Summer.
The caregiver was telling me that there are two auto repair shops within a few blocks.  "You can walk, they're close." She yelled to me, apparently not realizing people carry cell phones these days. While the elderly lady mumbled, "did you put it in neutral? I've had many cars die on me over the years, but I've always managed to get them started by putting them in neutral…"  I thanked her, wondering if she was suggesting I try to jump start my fourteen-thousand-pound RV!  I mixture of gratitude and sadness overwhelmed me; oh, the memories she has – and has lost.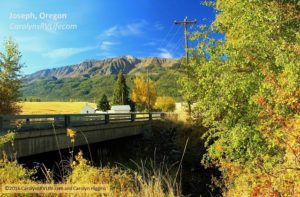 Before trying the local auto repair shops, I called AAA – I paid for the premier service, so why not try them first?  I got through in a few minutes and was put on hold for ten. And then a new operator came on and I had to start all over again – and she put me on hold again. Patience is not one of my virtues, so while on hold with AAA I walked the 3 blocks to Alpine Auto and talked to Peter, the owner.  After explaining that I was stuck behind the post office and that I suspected it was the starter (it starts slow when hot and drags at times. I'd had a feeling it was on its way out), he closed up shop, grabbed the mechanic's version of the doctor's house-call bag and headed over. Wow, you gotta love small town service! The AAA operator came back while I stood in Peter's lobby – "Never mind, I already got my own mechanic, thank you very much." I curtly told the her.  Apparently there's an issue with my account – something I'll have to deal with later…
Peter did some testing under the hood and then crawled underneath Big Bertha explaining that if it is a bad starter, we may be able to get it to started by hitting it with a mallet. That's my kinda fix!!! "Ok, let's try it!" I was enthusiastic and hopeful!
Once positioned he yelled, "ok, give it a try" Click. Click. And then music to my ears, her engine  sputtered and whined into motion. "Yay!!!" I was practically jumping out of my seat in relief! But the relief evaporated as Peter explained it was a temporary fix and that it may not start once I turned it off. I needed a new starter.
So, I drove to his shop and parked on the edge of the grassy yard of the hotel across the street. Without turning off the engine or locking the door (you can do that in small towns!) I went into the front office to explain my situation and ask if I could park there overnight.  The lady at the desk seemed a little reluctant, but said yes! I'm amazed at how nice people are! I think I've lived in big cities too long!
By 2:00 the next day, the new starter was installed and I was looking forward to being on my way… oh, wait. NO. Peter told me my brake fluid was extremely low and my brake pedal was too spongy. "You're going to Lewiston?" he confirmed, "have you ever been on that road?" I told him I hadn't, "It's very steep, and narrow and windy. I don't think all of your brakes are working. I'd get them checked before driving on that road, it's dangerous. There have been fatalities… There's a Les Schwab in Enterprise…"
Ughhhhh.
Ok, Ok. I did kinda notice my brakes seemed 'off' the other day when  my RV skidded in the dirt and came to a bouncy, soft top. And yeah, now that I think about it, I've been moving my seat further forward to reach the brake pedal because it's going so far to the floor. Oh – and the brake light and rear ABS lights have been on for months -OOPS!
I've been checking my fluids regularly, but I never checked my brake fluid because the front brakes were replaced when I bought the RV (I know because when I test drove it they were metal on metal).  I figured the brake fluid had been filled and would still be full. It never dawned on me there might be a leak!
On to Enterprise I went… I started to feel like I was in some warped  version of an old CCR song and I sang as I drove, "Oh Lord, stuck in ole' Oregon again.."  Whatever it takes to get through the day!
Les Schwab in Enterprise was as awesome as Peter from Alpine Auto in Joseph. They got me right in, did an inspection, told me it looked like a leak on one of the rear wheel cylinders and gave me a best case scenario quote (about $150) – and worst-case quote ($700 or more). After two hours I was out of there with a new brake cylinder, a brake pedal that  feels super-sensitive and a bill on the better side of 'best case scenario" – just $200.
All in all, it was a great day! I no longer have to worry about my starter or my brakes (Les Schwab did a visual inspection and everything else looked good!) and the bill for the day was only $550! I couldn't ask for much better than that!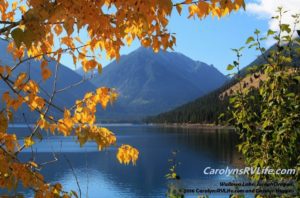 So here is what I learned about RV Maintenance and Repairs:
Don't take anything for granted with an old RV: Before my RV Living adventure, I'd been driving a 2006 Toyota Avalon that I bought brand new. I diligently had routine maintenance done and I knew that car inside and out. Big Bertha is OLD and worn out and I have to assume it wasn't maintained properly.  So that means when I suspect something isn't working right, I need to get it checked out right away.
Pay attention to the little things! I was on my way to a very steep, narrow and harrowing route in a 14,000-pound vehicle with bad brakes. It dawned on me: if my starter hadn't gone, I could be dead right now. Dramatic? Maybe. Maybe not.  I'd ignored the ABS light for months thinking, "oh, it can wait, my front brakes are new- who needs ABS anyway?" (yeah, I really thought that). And, when my brakes skidded, it didn't' register. I will now pay attention to everything and not take any chances.
I'm driving a huge, heavy vehicle! When my ex-husband became a truck driver, he had to pass a test to learn how to drive a big rig. And every time he got in that rig he had to do a pre-trip inspection to make sure everything was in working order. Vehicles that big can be deadly when not handled or maintained properly. While my Class C RV may not be a big rig, it's no passenger car either. Proper RV maintenance is not only important to keep it running, but to keep me -and others on the road safe!
Routine RV maintenance is critical – Checking all my fluids regularly, getting oil changes and tune-ups, checking tire pressure and tread and getting brake inspections are things that I will now be diligent about.
Peace of mind is priceless. Little by little I'm learning more about the condition of my RV by taking care of problems as they arise. For $550, my RV starts right up with no dragging, my ABS and brake lights went off and now I know my brakes are in good shape. Even if it had cost $2000, it would have been worth not having the nagging worry I've had for five months!
I think I've learned my lesson:  my old reckless,  "it's all an adventure" days are behind me.. well for today anyway!